April 5 — May 11
On the Main Stage
By William Shakespeare
Directed by Chris Coleman

Set in 17th century Venice, this is Shakespeare's profound tragedy of the power of love and jealousy. A highly esteemed general serving the state of Venice, Othello, secretly marries Desdemona, the daughter of a senator. As their marriage is revealed, jealousies around their love match and Othello's rise to prominence are unleashed, piling secret upon secret, and betrayal upon betrayal. A society seething with intrigue sets the stage for the ultimate tragedy—when love does not trust, and power is prized above all things.

Performance times:
Tuesday - Sunday evenings at 7:30 p.m.
Saturday and Sunday matinees at 2 p.m.
Thursday matinees at noon

View our Season Calendar for a full list of performances and dates.

The estimated run time is two hours and 40 minutes with one intermission.

Read the cast and creative team bios.
Learn more about accessibility options at PCS.

Note: Most productions at PCS are recommended for high school age and up; children under 6 are not permitted.

---
Portland Center Stage's production is part of Shakespeare for a New Generation, a national program of the National Endowment for the Arts in cooperation with Arts Midwest.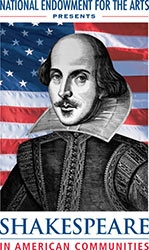 Reviews and Features
Holly Johnson | The Oregonian [Review 14 Apr 2014]
"Othello'" at Portland Center Stage is Tightly Focused, Wonderfully Rich
"Shadows abound, and golden light plays upon on an impressive hunk of dark, thick-walled Italian Renaissance architecture with its rounded arches that takes us to both 17th-century Venice and Cyprus, and wonderfully rich period costumes by Susan E. Mickey fairly stagger with the weight of layered fabrics, furs and jewels. Then Shakespeare's language, his story, pierces through all this heavy opulence like a knife, sharp, clear and potent as delivered by a stellar cast.
"It's a tightly focused, mesmerizing production directed by Chris Coleman.
"Hoffman's Iago is a primary, fluid energy onstage. He's a dazzling liar, a psychopath by today's definition, all the more creepy because he's bland-faced and relaxed, guiltless and even self-righteous in his planting of lies to make Othello's wife Desdemona (a luminous performance by Nikki Coble) seem unfaithful. ... There's an element of "House of Cards" here, as Iago shares his dire plans directly with the audience before he commits them, and we can't help laughing in recognition of his gall.
"As Iago's wife Emilia, the best female role here, Dana Green creates an ironic, archly funny woman who learns, too late, of her husband's foul, false words that have set up the innocent Desdemona's undeserved death. Her anger is palpable, and her strength a beacon in the dark."
Deborah Kennedy | Willamette Week [Review 14 Apr 2014]
A review of Portland Center Stage's production of Shakespeare's tragedy of love and jealousy.
"The key to our willingness to suspend disbelief is Iago ... This performance can make or break the show, and fortunately for this Portland Center Stage production, Gavin Hoffman's nuanced portrayal of Othello's BFF/enemy-in-disguise has the stroke of genius about it.
"The same can be said of Dana Green's turn as Iago's wife, Emilia. It's a small role but an essential one, and in Green's hands, the scene in which Emilia and Desdemona lament a woman's lot (to love, cherish, sacrifice and suffer) is both poignant and edifying.
"The players get help from Scoff Fyfe's gorgeous, rotating set and Susan E. Mickey's sumptuous costumes. ... it's Shakespeare at its most traditional ...
"If Shakespeare be the food of love, play on."
Join the conversation! We invite you to share your comments with us on our Facebook page.
Production blog

Accessibility