A Midsummer Night's Dream
November 13 — December 23
On the Main Stage
By William Shakespeare
Directed by Penny Metropulos

Four days will quickly steep themselves in night;
Four nights will quickly dream away the time
As the royals Theseus and Hippolyta prepare to marry, four young lovers from their Athenian kingdom flee to the forest in the wake of parental disapproval. But in the woodland, these lovers' lives are complicated upon crossing paths with feuding faerie royalty. As Oberon and Titania bicker over a changeling child, the mischievous Puck and his sprightly accomplices use herbal spells to hilariously complicate the love-mad quartet's forest idyll.

When a group of local rustics rehearsing a play for the Athens wedding also seek the quiet of the forest, the spells and confusions wrought seem unlikely to ever sort themselves out. But this is William Shakespeare at his most magical and most imaginative, and with a little enchantment, as Puck says "all is mended."

Performance times:
Tuesday - Sunday evenings at 7:30 p.m
Saturday and Sunday matinees at 2 p.m.
Thursday matinees at noon

A full list of performances and dates will appear when you enter the ticketing section of the website.

View the cast and creative team bios.

View the playbill for A Midsummer Night's Dream.

Learn more about accessibility options at PCS.

---
Portland Center Stage's production is part of Shakespeare for a New Generation, a national program of the National Endowment for the Arts in cooperation with Arts Midwest.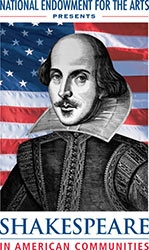 Reviews and Features
Holly Johnson | The Oregonian [Review 21 Nov 2012]
In Shakespeare's best-loved comedy "A Midsummer Night's Dream," opposites seek balance as a flurry of human and supernatural activity unfolds in an Athenian forest. Logic and nonsense, masculine and feminine, fantasy and reality, intellect and instinct, even tall and short long to be united. And, of course, light and dark are pitted against each other, as, in Portland Center Stage's powerful production, a giant moon rises upstage against a shadowy night, casting its age-old spell. In this dappled world of waking and dreaming, anything is possible.
Director Penny Metropulos gives us so much to like in this rich offering that it seems niggling to point out an unsettling bit. In the first scene between the upper-crust characters, Theseus and Hippolyta (Richard Baird and Dana Green, who also play fairy royalty Oberon and Titania), some awkward business works against the language. But after that, the evening sparkles with perfection.
read more
Bob Hicks | Oregon Arts Watch [Review 21 Nov 2012]
Like a music lover waiting eagerly for a certain shift of cadence in a well-known symphony, I always look forward to that moment in "A Midsummer Night's Dream" when Titania, queen of the fairies, wakes from her drug-induced slumber and first sets eyes on donkey-headed Bottom. O revelation! O feckless bliss! Her world turns!
This is a moment of high comedy, the mirror-opposite of the illusion-shattering moment when the little boy pipes up and breaks the spell in "The Emperor's New Clothes," and actors generally milk it for all it's worth. It's the moment when the illusion is born, when sense becomes nonsense and any attachment to reality (which is already tenuous, considering that we've been frolicking in the forest of the faeries) disappears. Since the audience understands this but neither Titania nor Bottom does, the joke rises and bubbles and takes off.
Yet as funny as it is, the moment also holds a seed of sadness: we're watching ourselves, or our theatrical stand-ins, in our most addled and ill-advised of states. This moment of faux falling in love, it seems to me, is a quintessential artistic illustration of our capacity for self-deception. We can call it "magic," and in the play it is, but it strikes me that magic, like hypnotism, won't work if the capacity for deception, or betrayal, or wickedness, or call it what you will, isn't already lurking somewhere deep inside, waiting to be awakened. Something within Titania finds itself attracted to this utter ass of a mortal man, and though that something's usually deeply and safely buried, it's there nonetheless. The same holds true for the young lovers who hop from infatuation to infatuation under the spell of the drug: Hermia and Helena and Lysander and Demetrius are a mixup of affections and attractions (the boys, predictably, more so than the girls, who seem to know what and who they want), or the magic wouldn't work. True love is never entirely true. Selfishness and the illusion of adventure persist. We are attracted to, and also repelled by, the idea of the Other.
read more
Join the conversation! We invite you to share your comments with us on our Facebook page.
Production blog

Accessibility